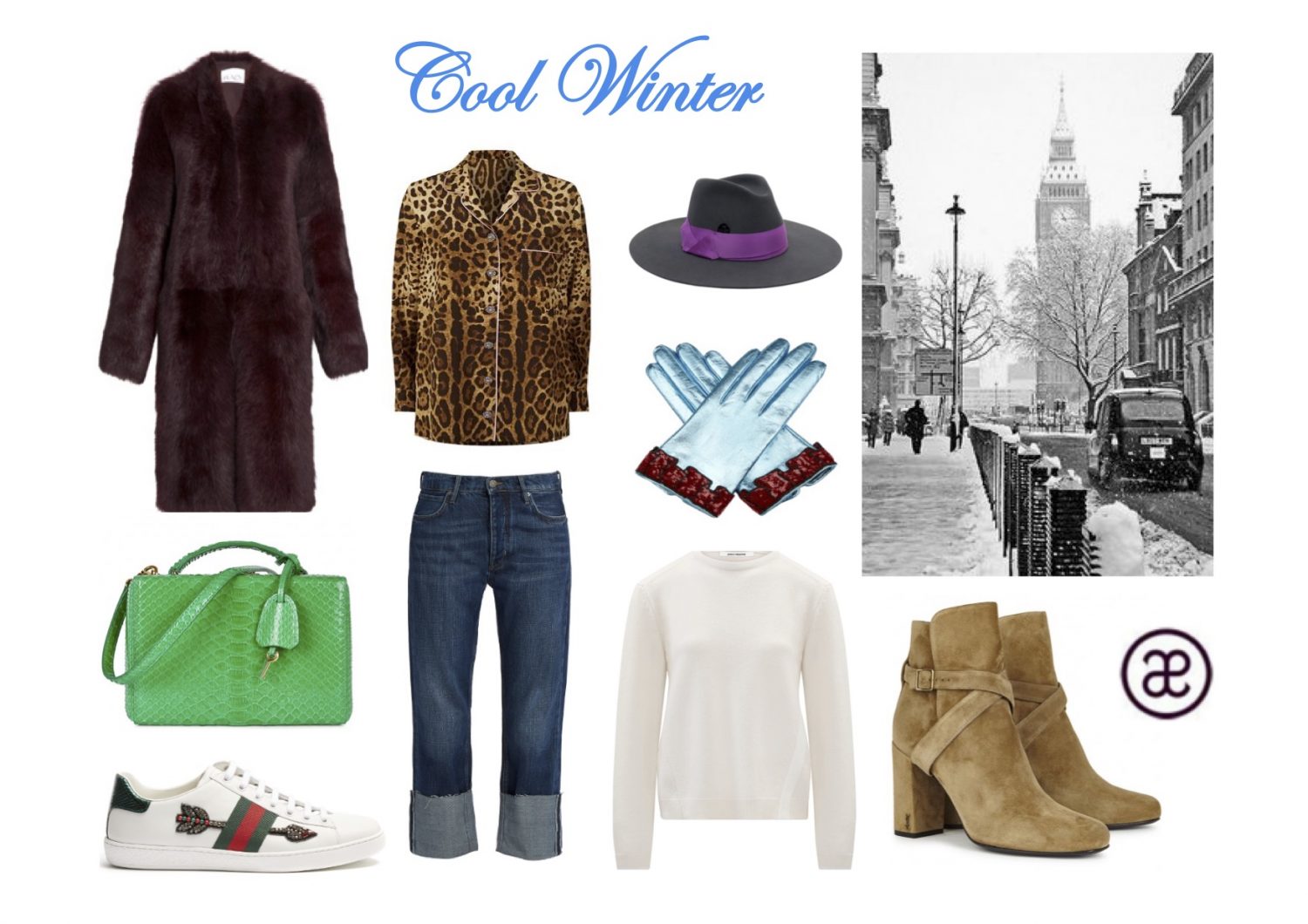 Brrr… It is cold outside
An aubergine treasure and one you shall treasure forever. Throw over any outfit smart or non to complete a look. Feel warm and look good doing so.
SHIRT – DOLCE GABBANA- Leopard Print Pyjama Shirt
Dolce know leopard print. Wear this silk shirt part tucked into the boyfriend jeans for relaxed look. When summer re appears, wear it open with the sleeves rolled up over bikini.
Jeans are personal. There are so many different styles, whether your preference be skinny, flare, cropped or boyfriend – it's about exploring what works for you. I'm a big fan of a boyfriend jean. Wear something fitted on the top half like the knit jumper or the leopard shirt tucked in.
TRAINERS – GUCCI – New Ace Arrow Embroidered Leather Trainers
Gucci everything. We've seen a lot of leather low cut trainers over the last few years but these have a little extra – a crystal arrow and snake ankles. Wear them with the jeans and jumper or shirt.
BOOTS – SAINT LAURENT – Fawn suede ankle boots
Winter means boots. These Saint-Laurent suede 'babies' are an elegant choice, wear with fitted cropped jeans or a skirt.
JUMPER – PACO RABANNE – Knit Sweater
A staple knit that can be paired with everything. Simple and practical, one can never own too many of these.
BAG – MARK CROSS- Grace Small Bright Green Python Box Bag
This eye-catching little python gem will brighten up a wintery day in no time. Wear it across your body or carry it proudly. It also comes in tan should you wish to feel less jungle.
HAT- MARIA STUART – Mrs Elisie Hat
This fedora hat will smarten up any look whilst sheltering you from London's rain. The band adds a touch of colour, pair this purple with the green python bag and leopard shirt.
GLOVES – GUCCI – Sequinned Cuff Leather Gloves
Gloves needn't just be practical, Gucci prove they can be fun too. However, not ideal for making calls or texting but they look great.
By Freddie
If you need advice from my favourite stylist to help you choose the prettiest and coolest outfits contact Freddie on Frederica.lovellpank@gmail.com or ring her on 07736941527. She put this "keep you warm in style" selection together.