The Little Prince…. of gardening-Richard Miers with Almost Essential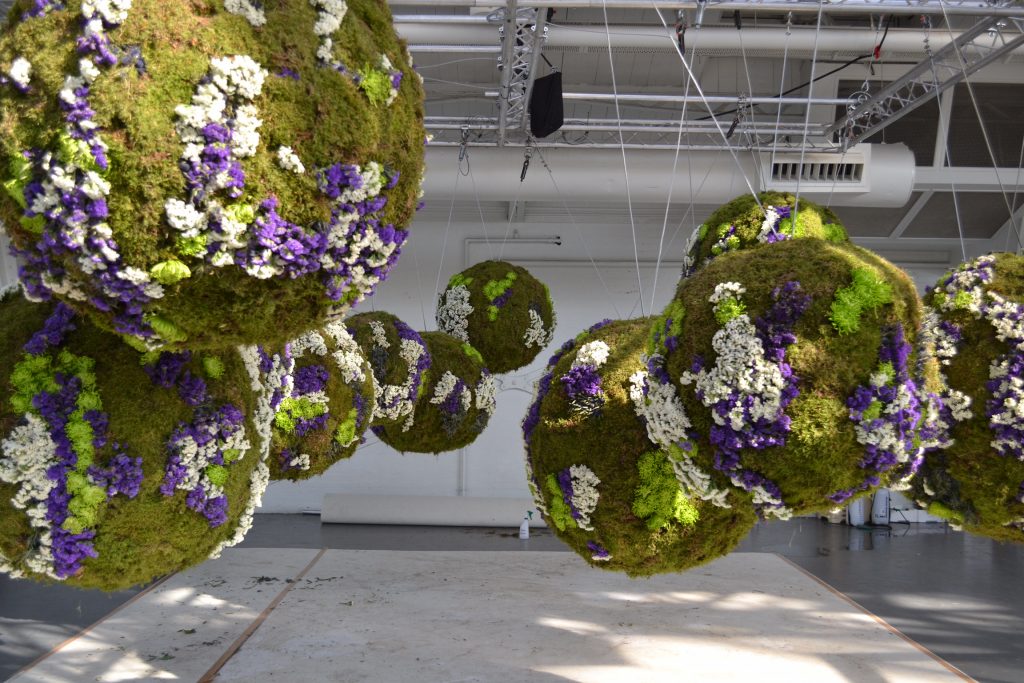 "People have forgotten this truth," the fox said. "But you mustn't forget it. You become responsible forever for what you've tamed. You're responsible for your rose."
― Antoine de Saint-Exupéry, The Little Prince
Richard Miers: NEFELBATA: Cloud Walker Garden Installation
Upstairs on the balcony of the House and Garden Fair at Kensington Olympia is the future of garden design. Floating planted orbs cluster like a constellation – living miracles from one of the UK's leading lights in Garden Design, Richard Miers.
"…thinking laterally, I came up with the concept for the installation where rather than just looking at a garden feature, the visitor interacts and travels through the different parts of the world, depicted in my imagination as giant "globes" of live flowers."  He used Moss, purple and white Statice (Limonium sinuatum), Green Shamrock (Chrysanthemum), and Thistle (Eryngium).
Designing gardens for over 20 years, in 2011 Miers was lauded by House & Garden as one of the top ten up-and-coming garden designers. He has created uniquely imaginative gardens around the world from a dacha in Moscow to a 15 acre Palladian new build in Surrey. "As a garden designer I may be straying from my expertise into the world of art and floristry, but sometimes it is good to blur the boundaries of life in pursuit of different experiences," says Miers.
His transition is particularly noteworthy for his ability to portray such a powerful concept with a minimal palette, in a trio of colours green, white, and purple. The effect is to brilliantly reference the world, without highlighting any specific nation, thus uniting these differently sized orbs. Suspended so as to creates a corridors of scented enchantment for the viewer, these globes also cast shadows on the ground. Like walking on many moons, this floating garden is just the sort of Eden we all need to see more of in the urban jungle.
"You – you alone will have the stars as no one else has them…In one of the stars I shall be living. In one of them I shall be laughing. And so it will be as if all the stars were laughing, when you look at the sky at night…You – only you – will have stars that can laugh."
― Antoine de Saint-Exupéry, El Principito
Niko Kos Earle
Almost Essential recommends Richard Miers for all garden landscaping and garden maintenance in London and abroad. Click here to contact him