The Ultimate Peruvian Road Trip
From Route 66 to California's Pacific Coast Highway many of us will be familiar with the great North American road trips. But, what about the best road trips in South America?
The current COVID restrictions may have made such road-trips impractical for now, but as you gather your travel inspiration for a post-pandemic world, we wouldn't want you to forget the experiences the roads of Peru can offer. In this story, we look back on what must surely be considered the ultimate Peruvian road trip, as taken last summer by Aracari founder, Marisol Mosquera, a group of friends and long-term customers. But, before we spoil the surprise and tell you which itinerary stops to add to your great Peruvian Road-Trip, first let's ask ourselves what makes a great road trip …
"The nature of any great road trip is an off-the-beaten-track adventure, away from the tourist trails, into remote beautiful landscapes with plenty of unique cultural attractions along the way. It has to make the hours of driving worthwhile," says Marisol.
Indeed, it's true, there's little incentive to get out on the road if your planned route is lacking in incredible scenery, culture, and adventure. The alternative to a road-trip is simply to fly between destinations, yet a truly great road trip doesn't give you the option of flying, and nor would you want to.
WHERE SHOULD YOU PLAN A ROAD-TRIP IN PERU
While Southern Peru is incredibly popular with tourists, the north is blissfully empty. Furthermore, this region offers the most diverse array of beautiful, untouched landscapes. From the desert coast and its ancient sites (Caral, Chan Chan and Huaca de la Luna), to the snow-capped peaks of the highest tropical mountain range in the world, the Cordillera Blanca, and Peru's highest mountain, Huascarán at 6,768m. The north of Peru is the obvious candidate for planning the ultimate Peruvian road trip.
THE ULTIMATE ROUTE FROM LIMA TO TRUJILLO: 5 UNMISSABLE PIT-STOPS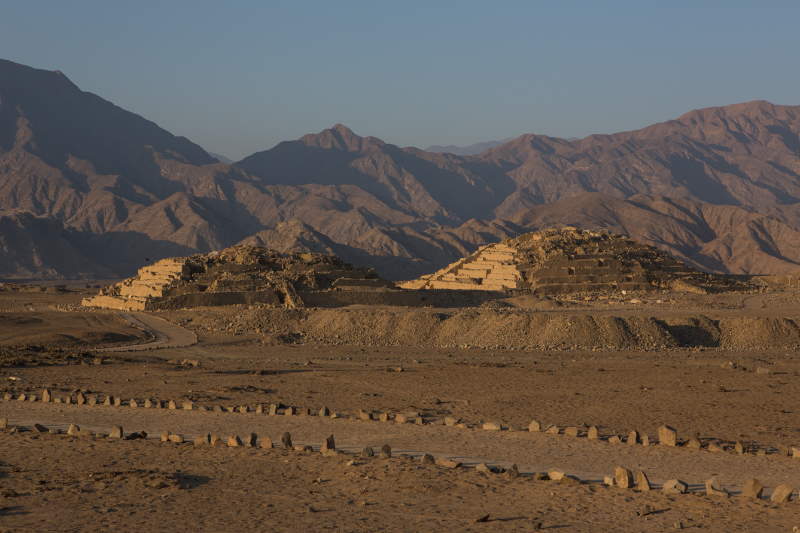 CARAL
Driving the 182 km (113mi) north from Lima takes you, through the Supe Valley and along a magnificent stretch of northern Peru's desert coast, to your first stop. The breath-taking Inca city of Caral. The city is the former home of the Southern Hemisphere's oldest civilization and a designated UNESCO World Heritage Site.
Letizia recalls Caral as "Extraordinary to visit. Surrounded by ancient archaeological sites with virtually nobody else there." Certainly, in comparison to the crowded Inca sites in the south of the country, you'll find your imagination easily transports you back in time here.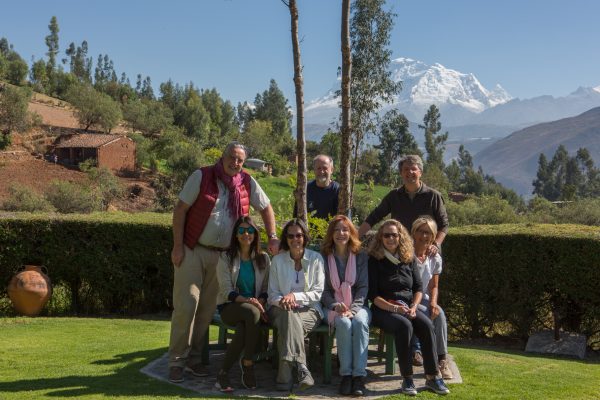 HUASCARÁN NATIONAL PARK
Home to the world's highest tropical mountain range, the Cordillera Blanca, and also the highest mountain in Peru, Huascarán (22,204 ft.), which is approximately 326 km (202mi) north of Caral. Huascarán isn't easily accessible by plane, which makes it perfect Road-Trip territory. Unlike any other habitat on earth, this is an ethereal world, where tropical forests are set amid the backdrop of snow-capped mountains and sapphire-tone glacial lagoons. When Marisol and her friends stopped here last summer, they stayed at Cuesta Serena, which is strategically located for visiting the surrounding the Park and relax in luxury. The views of Huascaran are breathtaking. For active visitors Llanganuco Mountain Lodge in the heart of the range is– in the words of Bert– " an absolute dream for hikers and the location is unbelievable".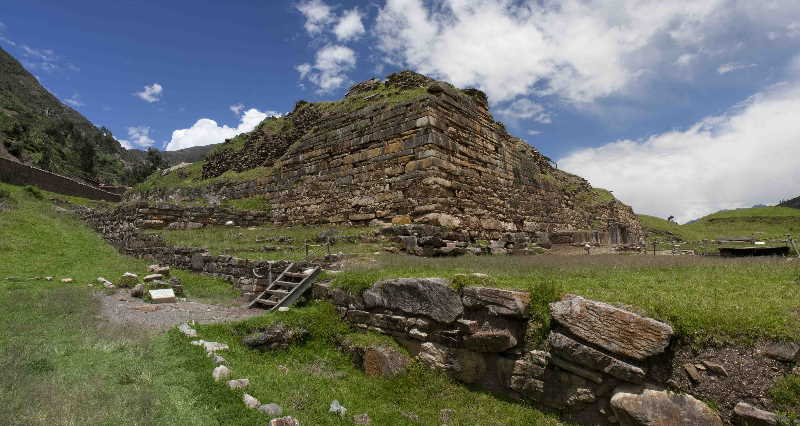 CHAVIN DE HUANTAR
Another UNESCO world heritage site, Chavin de Huantar is the location of the first recorded Pan-Andean religion. Here you'll be able to walk through sunken courtyards and intricate walkways, whilst learning about the ancient artifacts (carvings, textiles, ceramics, and structures) the formerly influential Chavin people left behind before their civilization became extinct. Last year whilst traveling through Huascarán National Park, Marisol and her group went out of their way, to make a well-timed pit-stop at this unmissable site.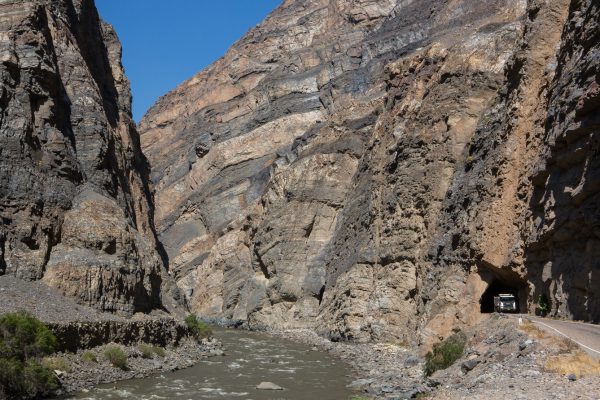 CAÑÓN DEL PATO 
On every great road-trip there needs to be a segment of the route, which leaves you with a mighty sense of accomplishment. On this route the Cañón del Pato is that section, and the whole group agreed. This hair-raising 85-km driving route (which took more than five hours in the van)  is carved directly into the mountains on the  Santa River and winds you down through the rugged desert, toward the monumental cities of Trujillo and Chiclayo on the Pacific coast.
"More than exhilarating" said Max about this route. He wasn't just talking about the occasional sensation of being on a rollercoaster. For the Cañón del Pato rewards travelers with "gorgeous and unexpected mountain scenery at every twist and turn". Indeed, this must be the highlight of this route from Lima to Trujillo.
TRUJILLO AND CHICLAYO
Our ultimate Peruvian road-trip finally comes to end in the city of Trujillo, which alongside the city of Chiclayo, forms part of what is known as The Moche Route. One of the most underrated gems of Peru – and South America – the Moche Route is a series of fascinating archaeological sites created by the Moche people, who existed long before the Incas. This civilization's success is evident from the beautiful metals, pottery and archaeological treasures, which they left behind and can be immersed in at sites like the pyramids of Tucume, and the 1000-year-old Huaca de la Luna temple. Private guiding by Profesor Ricardo Morales who discvered the site was "amazing" according to Bert.
BEFORE YOU FLY HOME
Whilst flights from Trujillo back to Lima can be arranged, you may want to first consider taking a short charter flight further North. Marisol's group did exactly this to visit Kuelap, an ancient city at 3,200m (10,500 ft) elevation that was formerly home to the Chachapoyas (also known as the cloud people). Despite being established long before Machu Picchu, it is considered the 'Machu Picchu of the North', for somehow 40 million cubic feet of stone was somehow cut, rounded, and moved to construct this ancient city.  From Kuelap you can drive onwards onto Gocta Waterfall, one of the tallest in the world, which sits amid the misty Chachapoyas Cloud Forest. You can hike to the falls in a few hours to look at them up close, or just enjoy the view from Gocta Natura Cabins which is what Rurik did. In his own words:  " I loved Gocta Natura; so comfortable and chic located in the middle of the cloudforest… and of course there is the view".
—
Including the onward journey to Kuelap and Gocta falls, Marisol's road-trip was completed across 11-days. If this has inspired you to consider following in her path you can view her whole itinerary (with timings) on their website,  alternatively, you can contact Marisol directly through her profile on Almost Essential here.
Note this blog was originally published on the Aracari website.