Moving House This Summer? Your Guide To A Stress-Free House Move
Moving home is regularly cited as one of the most stressful experiences for people to undertake in their home life. In fact, I have some very current experience of the matter and know precisely how daunting the sheer scale and volume of preparations can make oneself feel. Whether you're simply moving over the road or to the other side of the world, the stress-inducing challenges of any house move are the same. Fortunately, I can recommend a range of service providers that can help you with everything from storing your furniture, packing them away, transporting your belongings and even unpacking them into your new residence. Below are a few useful tips we'd like to share to make your next house move even smoother…
Decide and stick to a moving date. All your preparations will align themselves ahead of this date, helping to keep you organised. There's nothing worse than bringing your moving date forward and adding extra time pressure to all your preparations.
Begin sorting through and packing your household belongings at least two-three weeks before your move date. Never leave this to the last minute. The benefit of this approach is that during the process you'll find a lot of things you might want to throw out or recycle. Your new home will only have the items you really want in there.
Choose a reputable removals company that are trusted and can handle all your specific requirements. The most in-demand ones won't necessarily be available on the day of your move, so make sure you contact them early – or as soon as you know your move date. For advice on selecting and vetting a good removals service the that's something the Almost Essential Lifestyle Management can provide.
Next up, is cancelling, updating and switching over your utilities services from the old property to the new one. Don't forget council tax and TV licensing. These are some of the most common jobs, which people put off, simply because no one likes waiting on the phone for a call center operator to handle your queries. Fortunately, this is a task you can delegate to a trusted PA or if you're want to use the ultimate in home moving concierge service then speak to Elena, who manages home moves for some of the most discerning clientele around.
Dismantling big pieces of furniture requires some hard graft, but it's better you do these things early and it will create extra space in your home to packing your smaller belongings afterwards. If you need a bit of help, then have no fear because Michael's team of handymen might be someone you consider reaching out to.
Postal forwarding can be arrange online, over the phone or in person at the post office and purchased for 3, 6 and 12 months. This is a really useful way to ensure you don't miss any important correspondence or bills arriving at your old premises once you've moved. Again, it's another task a good PA can help you with – leaving you to focus on coordinating the other activities.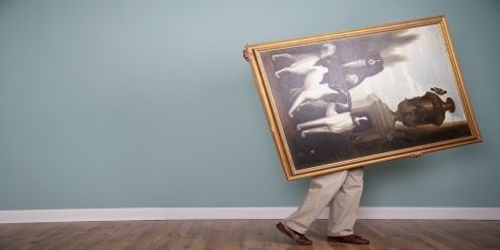 If you have any valuable artwork or objects you are transporting, then you will likely need specialist transport. Matt's team of professionals are discreet, trustworthy and experts in safely handling and moving your most treasured artworks. They do this for many of the major art galleries and can even arrange secure storage if you're new home isn't ready to house the art when you initially move.
Finally, when the day comes to move, make sure you defrost the freezer and lock all your doors and windows before exiting the premises for the last time. When you finally arrive at your new home, just when you can breath a sigh of relief, you'll realise the job isn't over. Now it's time to unpack. Fortunately Almost Essential have someone who can help with that also. Susan and Lucia run a specialist unpacking service for people moving home in London and the home counties. There team will help make that final big job is executed swiftly and in a stress free way.
Follow this advice and your next move should be a cinch.