Valentine's Week: How to Make the Most of It PLUS An Idea for Each Day!
Who says you only have to celebrate your love on Valentine's Day when you can spoil your loved one for a whole week leading up to the BIG day? Sharing your love during the week before Valentine's Day is a wonderful way of celebrating your special relationship.
Whether you plan the week of love with your partner or keep it a surprise, we've got loving ideas for every day of the week leading up to Valentine's Day. Enjoy!
Valentine's Week: How to Make the Most of It PLUS An Idea for Each Day!
Valentine's Day is an opportunity to celebrate the love you share with another person. On 14th February, lovers from around the world express their love and affection for each other through gifts and other ways. It's a day of romance, red roses, engagement rings (anyone?) and scrumptious food.
Turning it into a week of celebration and playfulness is another way of expressing your love for that someone special. Use our ideas for creating magical moments on each day leading up to Valentine's Day.
Tantalizing  Tuesday
Did you know that scented candles are often used to calm a person's emotional state and create a romantic atmosphere? Scents such as chocolate, spices, and Armagnac are known to soothe and trigger loving feelings. You certainly can't go wrong with beautifully scented candles for creating a heartwarming ambiance!
Start your Valentine's Week on Tasty Tuesday with a difference by gifting your loved one with a beautifully wrapped Amanda de Montal Candy Box full of aromatic wax candies. Resembling the delicious bonbon which is known for igniting romantic feelings, each scented candy is individually wrapped, releasing beautiful scents. Such an exciting playful twist to the diffuser.
Wellness Wednesday 
Spa days are synonymous with love and romance and couples often book a massage to celebrate Valentine's Day. But, you don't have to wait until 14th February to enjoy a blissful hour or two of pampering! Use Wellness Wednesday to treat you and your loved one to a 60-minute holistic massage treatment in beautiful surroundings.
Holistic massages rebalance your emotions, bringing peace, harmony and wellbeing. It allows love to surface as you're taken on a sensory journey while enjoying a range of massage techniques that bring your body back into alignment with your soul. What a perfect way to prepare you and your loved one for the big day!
Thoughtful Thursday
Capturing happy moments with photographs evokes a range of emotions and thoughts when looking at them. You can relive special times shared with your beloved through photography; the pictures are physical reminders of those joyful moments.
Compiling your favourite photos of your loved one and putting them into a beautiful wooden photo cube is a special gift that will last a lifetime. Using photographs on Thoughtful Thursday will reignite memories of positive life experiences, reminding you and your loved one of the special love shared between the two of you. Go one step further and make it personal by having your gift monogrammed. How thoughtful is that?
Fabulous Friday
As you head into the weekend and closer to Valentine's Day, Friday is the perfect day for making things fabulous! Add some smiles and fun by serving tantalising cocktails in a coloured silver plated Capri tumbler, giving the occasion a mix of elegance and aplomb! You'll need a classic cocktail shaker to master the art of mixing drinks!
Whether you're sitting indoors or outdoors sipping on your cocktails and indulging in delicious oysters, make sure you have a set of Tamara von Schenk Coasters to compliment the setting. Remember, it's Fabulous Friday, so you want to have as much flair and frivolity as possible which these coasters are designed to do!
Saucy Saturday
Going out on Valentine's Day can be hectic and if you don't enjoy being with the crowds, it can be an instant mood-killer! Instead, you can have a special night out a few days before and this we'll call Saucy Saturday! Choose a beautiful piece from our Italian designer, Carmen Basilique Bespoke Cashmere Collection to ensure you're looking stylish on this special occasion.
Almost Essential is here to help you complete the look with either a feather light masterpiece  by Contessina or something exquisite by the master jeweller Edeenne.
If your lover adores couture work, treat her to something from Nina Morris Fashion Collection before stepping out to enjoy a romantic night on the town! Now, dare we say this is a night for getting saucy? Ladies, be sure to set the scene with luxury nightwear and gift your man with Iona Debarge Chic Nightwear for Men so he feels equally luxurious!
Slow Sunday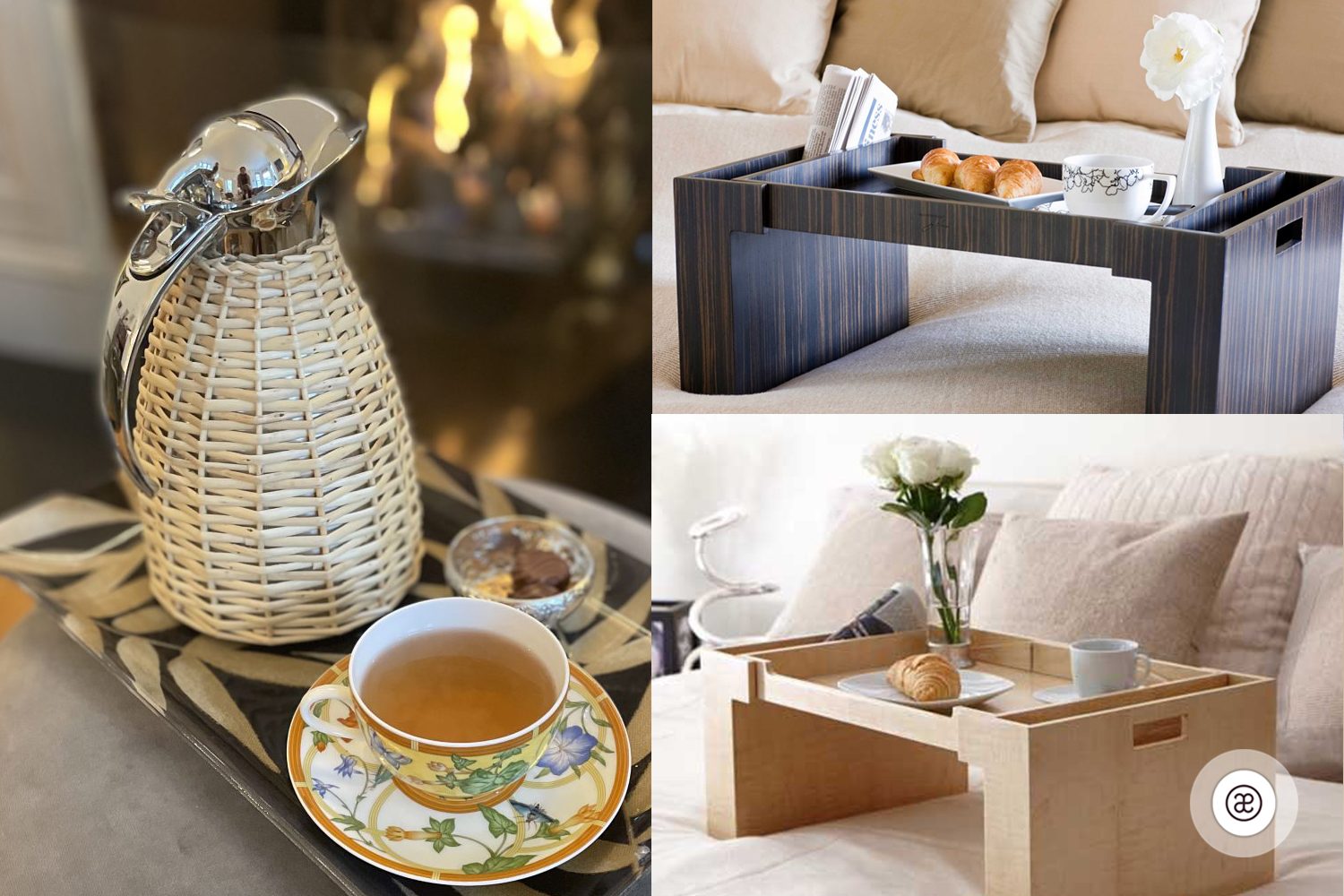 Start Slow Sunday by preparing a romantic breakfast in bed. Using beautiful accessories is a wonderful way to turn a normal Sunday morning in bed into a special occasion just before Valentine's Day.
Be sure to serve coffee or tea using an elegant and stylishly designed Marais Willow Insulated Carafe. What's more, you can use an exquisite pamper tray to showcase your delicious meal plus the beautiful red rose, of course!
Mmmmm…Monday!
Sending flowers is a popular token of love any time of the year but even more so on Valentine's Day. Surprise your beloved the day before 14th February by having a beautiful arrangement sent to their home or office. Using Fashionista Flowers by Flowerbx to celebrate your love will never let you down and are a treat for both men and women.
Mmmmm…Monday wouldn't be complete without a selection of scented mists, candles and diffusers by Amanda de Montal Fragrances. Spend the evening before the big day setting the tone with delightful fragrances wafting through your home.
The BIG Day
The BIG Day has finally arrived and you're primed after a fabulous Valentine's Week filled with love, treats and magical moments. Forget joining the masses tripping over each other rather enjoy a quiet evening at home! Instead, make it a night to remember in your own home with a mouthwatering Valentine's dinner prepared by chefs offering meal delivery services.
Serving couture vino from Chene Bleu Wines will complement your specially prepared three-course dinner. Rich in flavours and texture, this uber-niche collection of wine will have you and your loved one settling in nicely for an evening of romance.
Finish off Valentine's Day by gifting the man of your life with a beautiful Patrick Mavros Luxury  African Gold and Sterling Silver jewellery piece. Surprise your lady love with an exquisite jewellery piece from the Augustine collection. What a way to finish a truly magical Valentine's Week!
Final Words
Valentine's Day needn't be a commercialised experience for you and your beloved. What's more, you don't have to focus on one day either. While 14th February is THE day, creating magical experiences with Valentine's Week is an extraordinary way of spoiling your loved one.
Using our ideas for setting the scene each day of the week leading up to Valentine's Day is a truly wonderful way of celebrating your love for someone special in your life. True love is meant to be honoured and gifting beautiful treats and experiences is an excellent way of doing exactly that.
Let Michelle and her selected products and service providers associated with Almost Essential help you create an experience your partner will never forget. We love to turn ordinary moments into extraordinary occasions and we'll ensure your Valentine's Week is remarkable, romantic and sophisticated.